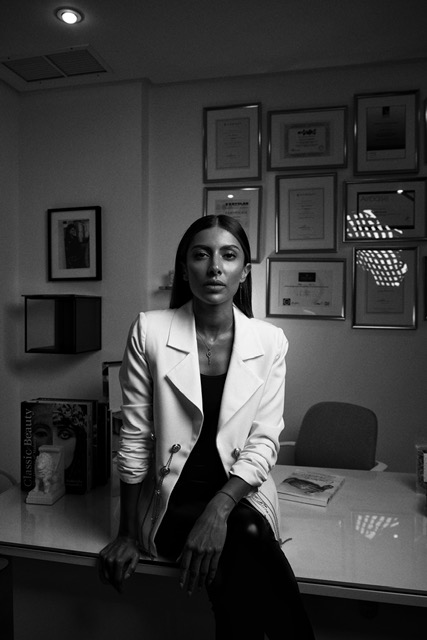 Subscribe to our newsletter
About Sabika Al-Rashed
For the past 11 years Sabika Al Rashed has earned a name as a makeup artist specializing in creating modern, simple and glamorous looks in fashion weeks from Milan to London. Worked for the Opening Ceremony of EXPO 2020 in Dubai taking care of some of the headliners makeup, hair and touch-ups during the rehearsals, press and the Grand Opening for Opera singer Andrea Bocelli, award winning Beninese singer-songwriter Angelique Kidgjo, Emirate singer Rashed Al Nuaimi, Singer-songwriter Almas and British singer-songwriter Ellie Goulding. Brought her talents to Gulf, translating not only modern makeup trends but also taking into account every detail of the occasion to create the perfect look.
Growing up her childhood and training in London, Sabika was continuously inspired by the skill and talents of European makeup artists and after years of honing those skills she returned to Kuwait with the aim of offering her artistic talent and experience to women across the country. Launching the first local eye-lash line 'Seby-Lash' as well as offering her professional services through a dedicated website and by 2017 she established her own company Seby Beauty Co. and launched her healing cosmetics in London and Kuwait. Sabika also heads several workshops in kuwait, qatar, dubai, abu dhabi & muscat where she shares her aspiring make-up know how and expertise with individuals who want to enter the field or those interested in perfecting their own make-up. they can to her makeup school in kuwait to learn or upgrade their skills.
Graduate of the prestigious Illimasqua & AOFM makeup academy's in London, Sabika studied professional makeup mastery, evening and bridal makeup as well as vintage glamour and professional male grooming. While in London Sabika also embarked on an exciting experience while learning the sophisticated art of SFX or Special Effects makeup, and working with renowned makeup artists on local plays, halloween events in Dubai, backstage shows in London & Milan fashion weeks and worked with the directors of Game of Thrones.
My experience:

Mastering professional makeup at the
illamsqua school of makeup art

Vintage glamour course at the illamsqua school of makeup art

Professional Male grooming at the illamsqua school of makeup art

Evening & Bridal makeup workshop by bouba

Session stylist hair course at the hair project East London

Freelance Certificate In Designer Special FX Run By AOFM London

Air Brush Makeup – ElemenTwo Kuwait – Taiwan

Advanced makeup artistry course – house of glamdolls London

Airbase Advance airbrush course in London

Drag course at Kroyal Makeup School in London
Barbicade COVID-19 Certification for the Safety of Professional beauty industry training.